How to Install Debian 12 in VirtualBox (Windows 11)
In this post, I will explain how to easily install Debian 12 in VirtualBox running on Windows 11.
Remember that Windows 11 has the ability to run WSL2 (Windows Subsystem for Linux), which is much easier to setup and work with, but sometimes setting up a virtual machine on our own can be useful.
Download and install VirtualBox
First step is to download and install VirtualBox, go HERE and download and install the latest version of VirtualBox
Download Debian ISO
Go HERE and download the amd64 version of the iso
Installing Debian in VirtualBox
Step 1 : Configuring the new VM in VB
Open virtualbox, click New, it will open up a window to configure your new vm information.
Name : Choose a name, I chose Debian 12
Folder : You can leave it at the default
ISO Image : Browse to the debian ISO we just downloaded
Skip unattended installation : Uncheck this, so as to control things like installing a desktop environment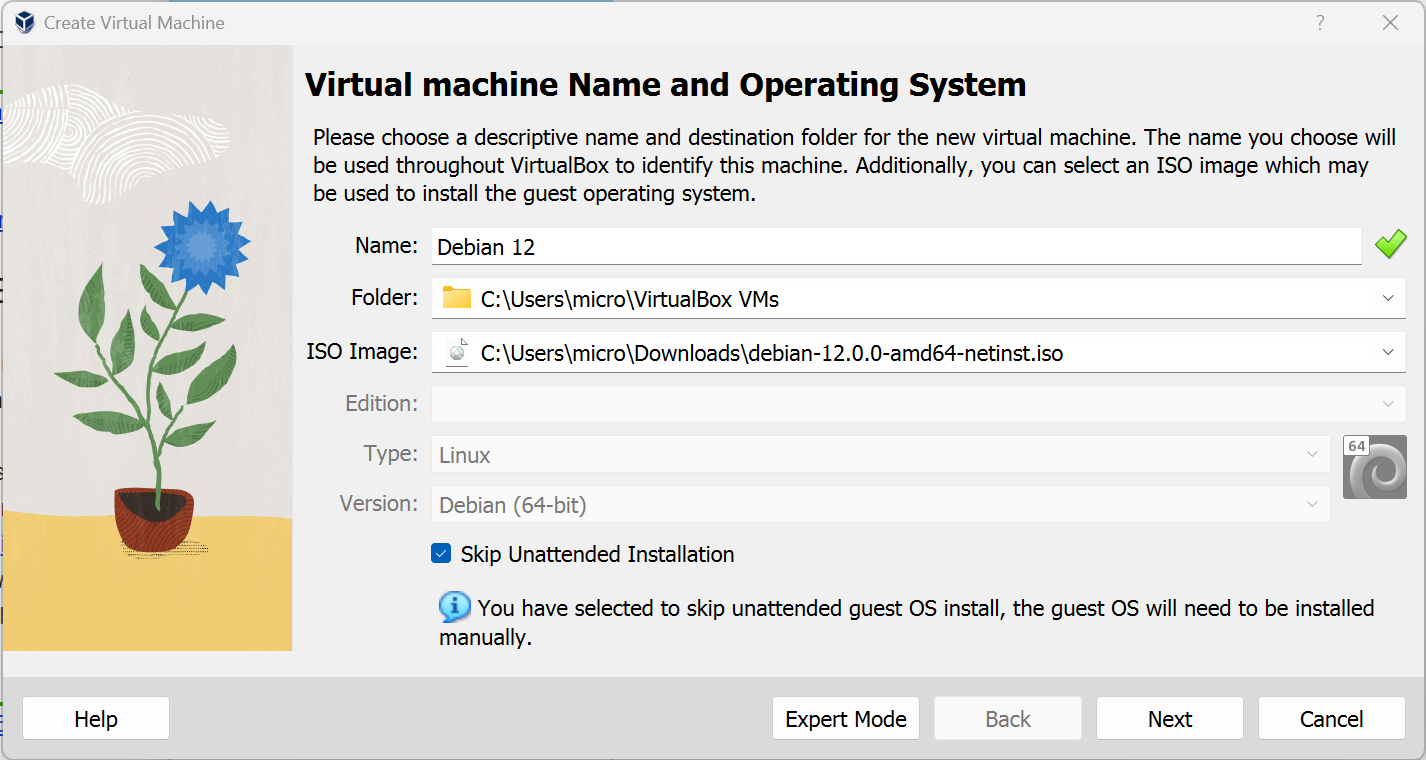 Step 2 : Choose system resources, Virtual hard disk
Here we choose how much CPU and ram to give to the new VM. This entirely depends on what you are planning to do with the VM. In my case, I chose :
Next, under Virtual Hard Disk, choose Create a virtual hard disk now.
Give enough disk space as you would see fit. I chose to give 10GB, click next and Finish
Step 3 : Installing Debian 12
Back in VirtualBox, click on the VM we just created and click Start. This should boot up the iso and you will be presented with a boot menu. Choose Graphical installer
Choose your language, location and keyboard
Hostname : choose a preferred hostname, debian should be good if you are unsure
Domain name : Leave it empty
Root password : Set a root user password that you will remember
Full name for the new user : Choose a new name for a new user that will be created
User password : Choose a password for the new user
Choose your timezone
Under "Partition disks", choose use entire disk. Don't worry about this, this is only using the virtual disk we created for this virtual machine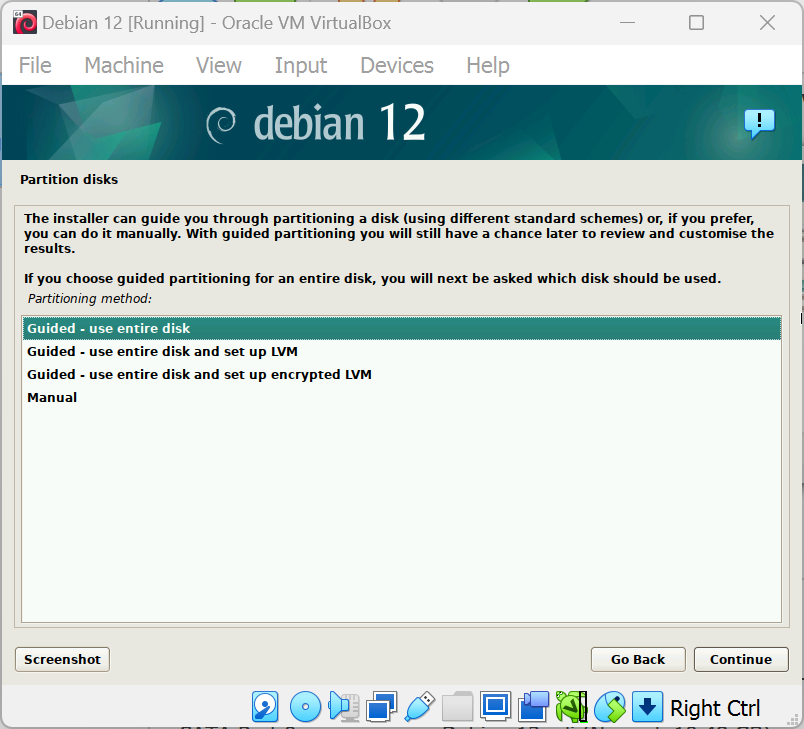 Click continue
In the next screen, choose All files in one partition
And choose Finish partitioning and write changes to disk
Choose yes and click next
Scan extra installation media : Choose No
Configure the package manager : Choose your country or a country close to you.
Choose the default address
Skip the HTTP Proxy information (leave it blank)
Step 3.2 Choosing a desktop environment
This part is completely up to you. If you want your new debian virtual machine to have a graphical UI like Gnome, or KDE, you can choose that one here.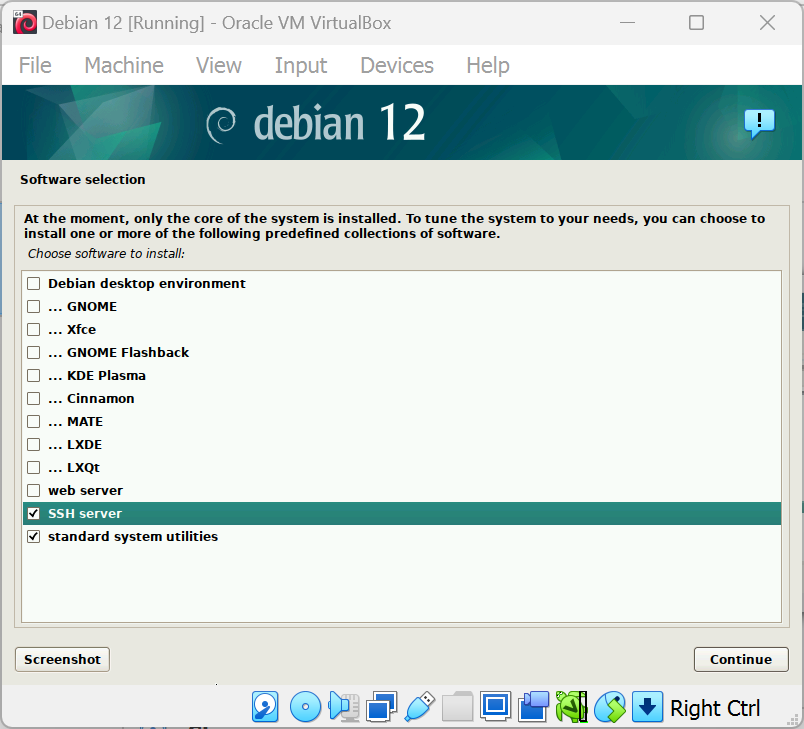 If you want a desktop environment, make sure you check two boxes:
Debian desktop environment
An environment of your choice. Xfce, Mate, LXDE are very lightweight and I would recommend any of them if you want a desktop environment
I choose not to install any desktop environment because I will be using ssh to connect to this VM. You can see that I have chosen SSH server for that reason.
Step 3.3 Installing Grub Bootloader
Choose Yes in the Install GRUB bootloader screen and choose the device as shown below.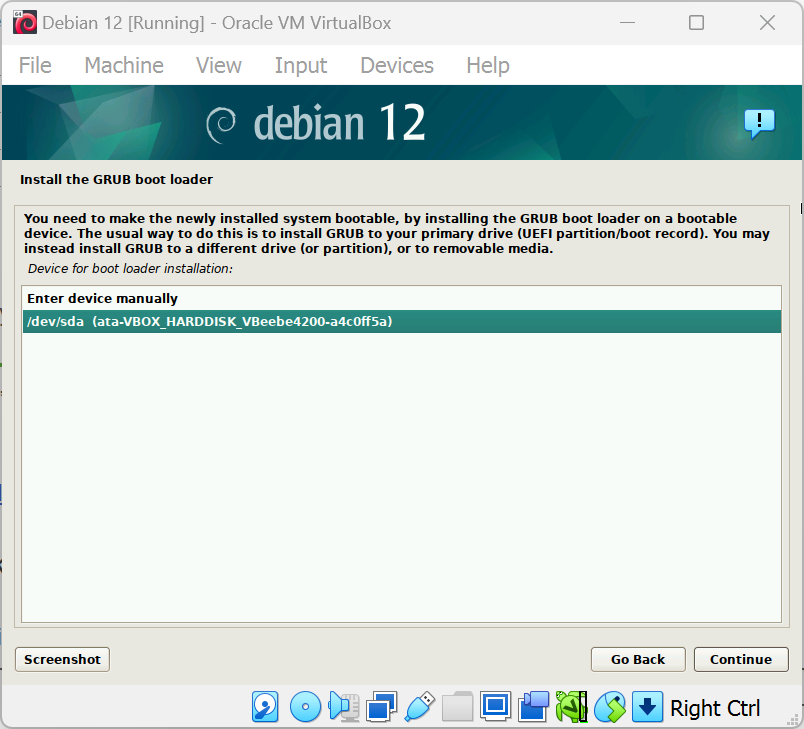 Reboot and enjoy your new Debian 12 installation